Did you know Rochester has
an abandoned subway?
They're thinking of filling some of it in, to the tune of $24 million dollars...but there are some proposals to reuse the tunnels for transit, as an aqueduct, or as an art center.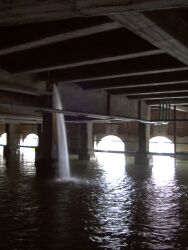 here's a pic from infiltration.org, with their exploration post.
Also, the director of the National Vacant and Abandoned Properties campaign responded to my email and was really friendly, even about my hinting for an internship -- too bad they're located in DC. They are hosting their first conference in September in Pittsburgh and I totally want to go!
I picked up
this baby, History of Housing in New York City: Dwelling Type and Social Change in the American Metropolis (Hardcover)
by Richard Plunz
at the school library today. Remarkably it's the first book I have checked out of the school library since I started 2 years ago. Most of the time there's a cheap used copy on the internet, though I hate underliners with a passion. Not this one, I'm carrying around $110 worth of book. It's pretty good -- I had a chance to skim some of it on a delayed subway this morning. Plenty of tenement floor plans, hyperbolic early newspaper cartoons, superblock development photos etc.